This very original outfit was made for the company "Shibuya Productions", in order to be used as a mascot for their event "Magic" in Monaco. The outfit also appears on all the official visuals of the event.
Keeping the specific retro/historical/japanesy style of Clara Maeda, the design was made to add a sexy and "kawaii" touch to the outfit.
I therefore used a rainbow of pastel colors on an 18th century corset+panniers and Watteau pleats base, modernizing the whole thing with the fabric choices and the revisited lines.
The corset with a kimono collar worn on a silk chiffon bloomer is made of embroidered japanese silk reused from an antique kimono, the tassets are made of rainbow colored silk. The panniers also reuse those pastel colors, and the silk organza train is hand dyed with a graduated pale pink.
Finally, some garters made of pleated silk bring a sexy touch to the outfit. As a nod to "Shibuya Productions", their logo has been hand embroidered in the back neckline and on one of the garters.
Vous avez un projet?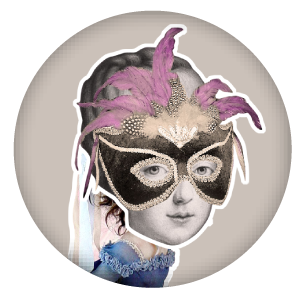 Cette création vous plait et vous souhaitez un vêtement s'en inspirant? Contactez-moi
Le prix évolue suivant les tissus et matériaux choisis, le nombre et le type de décorations, ainsi que le temps de travail nécessaire à la réalisation du projet.
Cliquez sur le lien suivant pour en savoir plus sur les robes de Mariées historiques Clara Maeda.